Are you interested in learning Spanish? Great! You have reached Colegio Delibes: The best way to learn Spanish for first time or improve your language skills.
Colegio Delibes is located in a five story historic building in the square of Julian Sanchez "El Charro", just a five minutes walk from the Plaza Mayor. It is fully restored with the latest technology, equipped with an 8 person elevator, and has 23 spacious classrooms, all with climate control, computers, projectors and free Wi-Fi for students.
You can enjoy a coffee in our outdoor patio during class breaks with your classmates and enjoy the sun while sitting on one of its benches.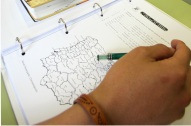 Inside, you can enjoy a fully equipped video and conference room with a 60 person capacity, a gastronomy classroom for cooking classes, a library with books on loan, a computer room with free use of the Internet, an art gallery in the interior courtyard and WiFi networks on every floor.
When exiting the building, you will be greeted by a large green open square, full of trees and benches, and void of cars and traffic. Our students love the beautiful, safe, comfotrable environment to get some fresh air between and after classes.